After only two months in lockdown, I was horrified to jump on the scales to find I had gained 15kg.
I found myself to be eating whatever I wanted, when I wanted, and too much of it and because I
wasn't exercising regularly (thanks to the gym being closed down), the weight piled on.
I've never been someone who diets. I've tried shakes, cookies, all protein and Keto, but I could never stick to them and even if I lost weight, I put it back on again. Knowing this, I used intuitive eating and I got creative with the meals I made. They were still my 'naughty' foods, but they were much healthier for me. Lesser in carbs, fats, sodium and sugars. Before I knew it, I started to lose weight.
Intuitive eating is making smarter decisions but not banning myself from the foods I loved. If I
wanted chocolate – I ate the chocolate, but I was intuitive in how much I ate. I listened to my body
when it told me I was full and didn't binge eat because I wasn't restricting myself from the foods I
loved.
Within 2 months I had dropped 10kg by staying within my calorie deficit, but I didn't count any
calories. I dropped carbs and sugar, and increased my protein intake. Combined with my averaged
day of activity, half an hour walks and household cleaning, it was able to lose 10 kilos the weight I
had put on.
One of the main ways that I managed to lose weight was by swapping out my favourite foods with
low carb and vegetable alternatives. These are the foods I used:
Pasta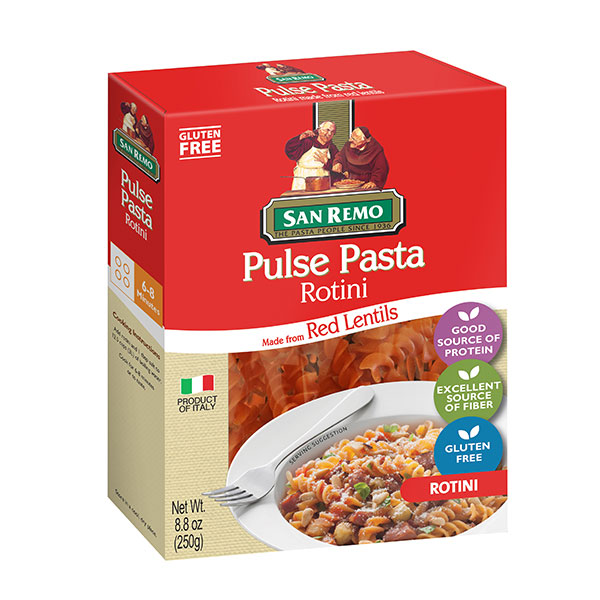 Instead of whole grain pasta, I used red lentil pasta or edamame fettuccine as an alternative, which
are available at Coles, Woolworths and online.
I also used zucchini or sweet potato spaghetti. Coles has these already pre-cut and packaged ready
to eat, but I also made these using a vegetable spiralizer. This helped me increase my daily vegetable
intake.
I followed the packet serving instructions and paired it with my choice of sauce (usually bolognaise).
I used the same sauces as previously but whole grain spaghetti changed.
Spaghetti Squash is also a popular alternative. I cooked the squash in the oven for 40 minutes and
used a fork to scrape it out.
Rice
I swapped white rice with cauliflower or sweet potato rice, which are available in the freezer section
of Coles or Woolworths. Similar to the approach with the pasta, I paired it with anything I
traditionally ate. People often boil cauliflower rice, but it goes gluggy, so instead I fried this for 5 to
10 minutes and it tastes much better. My favourite meal with this is curried sausages.
Wraps and bread
I swapped bread or wraps that I loved for lower carb alternatives and I could barely taste the
difference. If anything, I preferred these lower carb options. I avoided cereals or muesli as much as
possible because of their high sugar. Instead, I found a slice of toast with an egg would be perfect. I
would also make myself a 'McDonald's' brekkie wrap with scrambled eggs, fried bacon and BBQ
sauce (lower salt).
Ice-cream
Companies are slowly becoming much more friendly to low-calorie options when it comes to sweets.
I found Halo Top's ice cream fantastic for curbing my cravings for sugar. Each tub has 360 calories or
less so I didn't feel guilty about eating it. They're stocked at both Woolworths and Coles, but Aldi has
a cheaper version called Kenny's 360. Keep an eye out for these products because more variety are
Here are a few of my favourite recipes: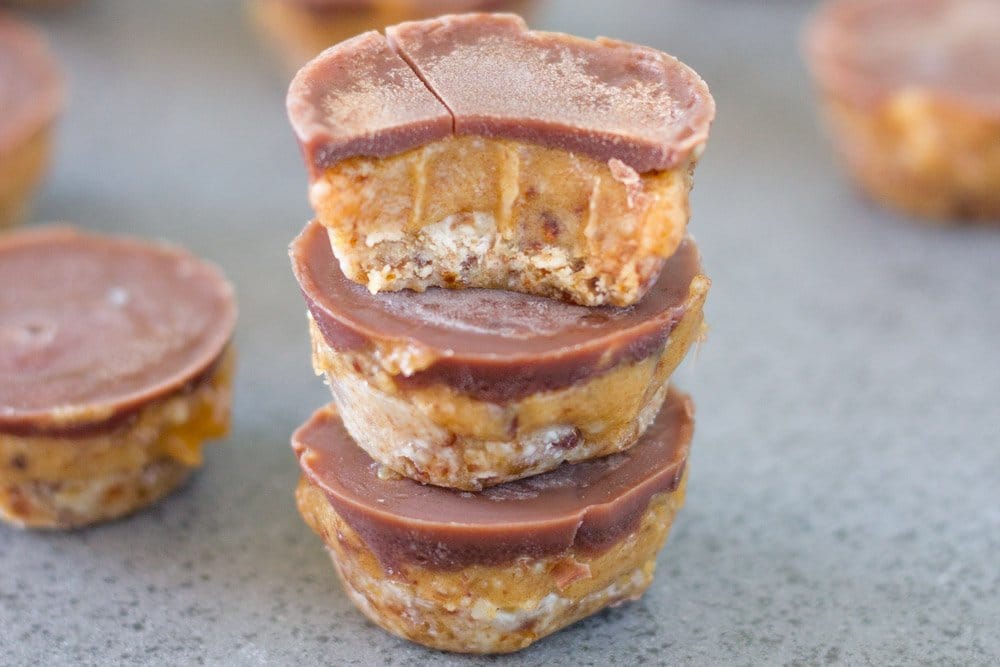 Ingredients
Base layer
1/2 cup macadamias
6 medjool dates, pitted
1/4 cup desiccated coconut
Caramel layer
1/2 cup macadamias
7 medjool dates, pitted
1/3 cup pure maple syrup or rice malt syrup
1 teaspoon vanilla extract
Pinch of sea salt
Chocolate layer
1/3 cup coconut oil
2 tablespoons pure maple syrup or rice malt syrup
1/3 cup raw cacao powder
Instructions
To make the base layer, add the ingredients to a high speed blender or food processor and blend until it resembles fine crumbs and sticks together when pressed. Spoon mixture into a 24 mini muffin pan (see note below) and press down with the back of a teaspoon. Place it in the freezer.
To make the caramel layer, add the ingredients to a high speed blender and process until completely combined and smooth. Spoon the mixture onto the bases and smooth over with the back of a teaspoon (see note below) and place back into the freezer for at least 1 hour to set.
To make the chocolate layer, melt the coconut oil in saucepan on low heat. Once melted, remove from heat and add the sweetener. Whisk briskly until well combined. Then add the cacao powder, stirring until well mixed through. Pour the chocolate on top of the caramel layer and place back into the freezer and let it set completely, approximately 3-4 hours. Once frozen, they are much easier to remove.
I keep mine store in the freezer in an air tight container and remove them a few minutes before serving/eating.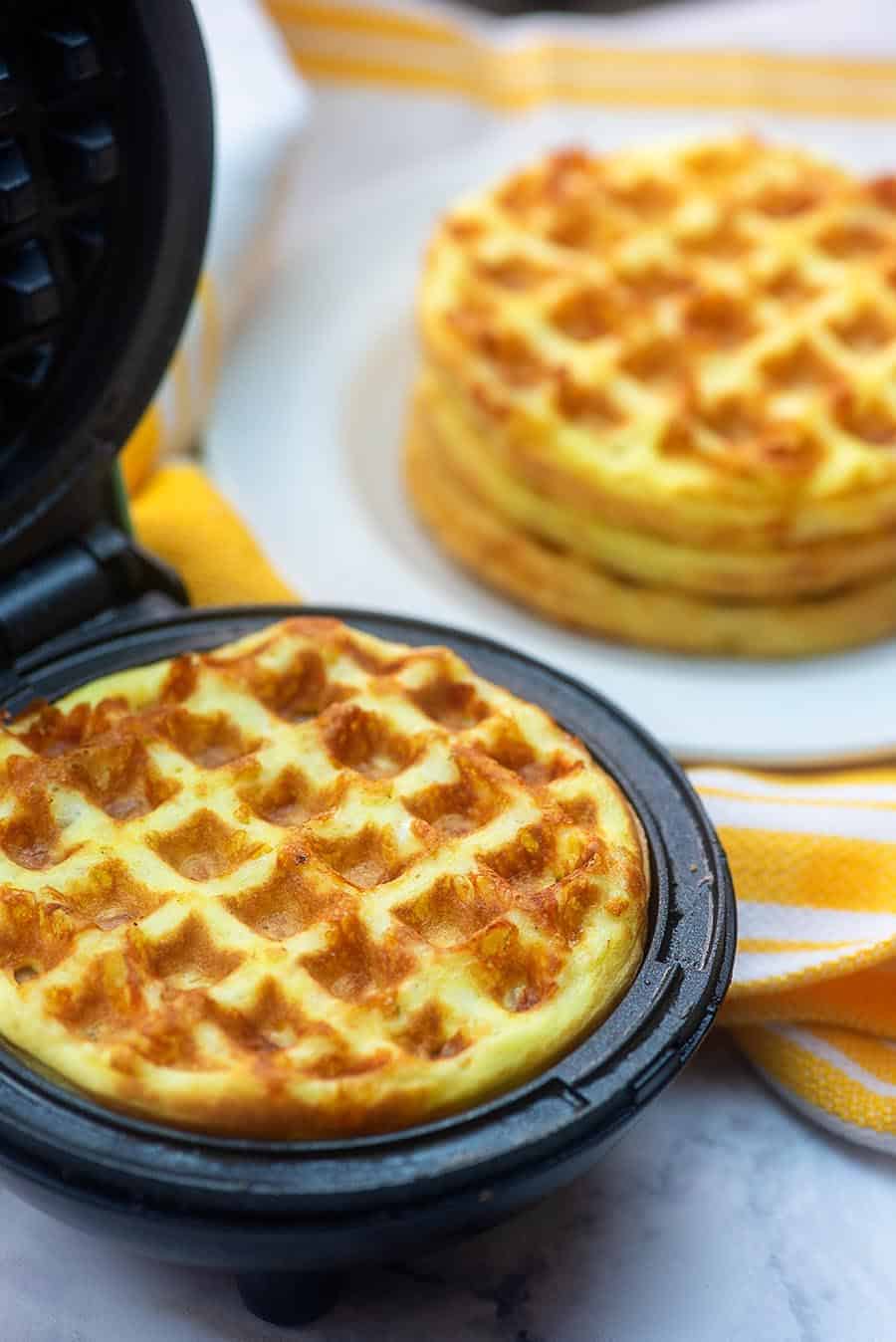 Ingredients
1 large egg
1/2 cup finely shredded mozzarella
Instructions
Plug in the waffle maker to heat.
Crack the egg into a small bowl and whisk with a fork. Add the mozzarella and stir to combine.
Spray the waffle iron with non-stick spray.
Pour half of the egg mixture into the heated waffle iron and cook for 2-3 minutes.
Remove waffle carefully and cook remaining batter.
Serve warm with butter and sugar-free syrup.
Instructions 
Mash up bananas in a large bowl.

Whisk eggs (using a fork is just fine!) and add to banana paste.

Fry gently in a pan on low-medium heat with a little heated oil or butter.